Nest FAQ - Season 7
When were the eggs laid and when did they hatch?
E7.1 was laid some time early morning on Tuesday, Feb 12, 2019. E7.2 was laid early morning Thursday, Feb 14, 2019.
Is this the same urn as Season 1's egg?
No. The Season 7 urn is identical to the Season 1 urn, but this is a different balcony. Season 1's balcony was on the east side of the entry structure. This balcony is on the south side.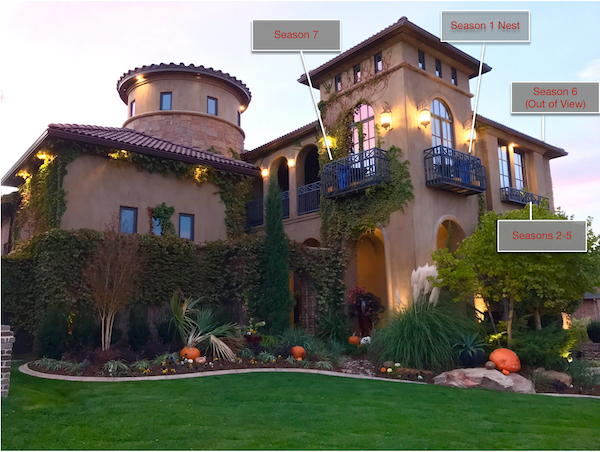 How big is the urn?
The urn is ceramic and is approximately 38" tall. The top of the urn is approximately 16" x 16". The level of dirt is roughly 6" lower than the top of the urn.
How big is the balcony?
Known as a "juliet balcony," it extends approximately 32" out from the wall, and is approximately 6' wide. The handrail is 42" off of the floor of the balcony.
What kind of lighting is there for night-viewing?
While more recent seasons enjoyed an overhead recessed can light, this location has 2 large coach light fixtures, each with 3 candelabra style bulbs.